The road of parenting is a mix of profound joys and particular difficulties. Every stage of life has its own unique set of options, from the formative years of rearing infants to the transforming years of adolescence. For parents, the duty of raising children who are healthy, joyful, and well-adjusted can occasionally feel overwhelming. They frequently miss out on the unofficial assistance that parents fifty years ago received from neighbors and extended relatives because they are inundated with professional advice and social demands.
Parent coaching helps families communicate more effectively and strengthen their bonds. Learn via practice how to positively affect families. At Ihsan, we are aware that parents frequently seek advice and assistance in overcoming these obstacles. Our parent coaching services are intended to empower parents by providing necessary resources and knowledgeable guidance to assist you in effectively navigating your family through the ever-changing parenting environment.
What is a Parent Coach?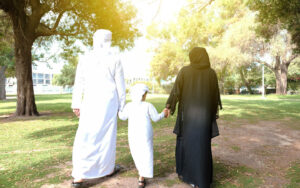 Parent coaching is a cooperative and goal-oriented kind of parenting assistance. Instead of lecturing you on how to raise your children, coaches want to work with you to help you realize your own parenting potential. Our coaches at Ihsan work alongside you, providing a secure and judgment-free environment for you to examine your worries, set objectives, and create solutions to suit the particular requirements of your family. Our Parent Coaches are experienced specialists with an extensive understanding of family dynamics, child development, and behavior. They are prepared to offer you situation-specific, evidence-based advice. Our coaches have the skills to help you whether you're trying to improve your parent-child relationship or are having trouble with discipline or communication.
The Scope of Parent Coaching at Ihsan:
Effective Communication:
Positive parenting is based on effective communication. Effective communication is important for the family to remain intact and have good connections. Parent coaching helps parents build effective communication skills that promote empathy, active listening, and understanding. It encourages children to express themselves while also educating parents on how to communicate their wants and feelings. Our coaching places a strong emphasis on effective communication strategies that encourage honest and constructive interaction between parents and kids. We show you how to use empathy, active listening, and other techniques to build rapport.
Behavior Management:
Parenting requires both controlling behavior and applying discipline. It might be hard to handle children's troublesome behaviors. Parenting coaches assist parents in developing punishment plans that are successful in encouraging good behavior and teaching children critical life skills. Our coaches work with you to create proactive plans for dealing with behavior problems while upholding a supportive and respectful atmosphere. Our emphasis is on providing constructive criticism, outlining precise standards, and applying fair penalties.
Building Resilience:
Children who possess resilience can prosper in the face of obstacles in life. Parents can create a caring and structured atmosphere that encourages healthy growth by learning about various parenting philosophies and adapting their tactics to meet the requirements of each of their children. Our coaching offers ideas and methods for fostering resilience in your kids. We help you develop self-reliance, analytical thinking, and emotional control.
Parenting Through Transitions:
Transitions are a part of life, and they may have a big influence on how families interact. Our coaches provide assistance to help your family adjust and thrive during transitions, regardless of whether you're navigating divorce, mixing families, or confronting other life challenges.
Teen Parenting:
Adolescent parenting has a special set of difficulties. Our coaches are knowledgeable in the subtleties of adolescent growth. We provide pointers on establishing limits, upholding good relationships, and encouraging your adolescent to pursue independence.
Self-Care for Parents:
Parents must put self-care first since parenting is a difficult job. The ability to control one's emotions is essential for both parents and kids. Parenting coaches assist parents in creating coping mechanisms for their own emotions and in demonstrating appropriate emotional expression to their kids. Our coaching places a strong emphasis on the value of self-care routines that let you refuel and be the best parent you can be.
Final Words:
At Ihsan Coaching, we believe that every parent has the capacity to build a caring, encouraging, and successful home atmosphere. Our parent coaching services are created to provide you with the information and abilities you need to confidently handle parenting problems. Our coaches are here to help you whether you're dealing with toddler meltdowns, navigating the pre-teen years, or getting ready for the adolescent years.
Parent coaching is the first step on the way to productive and satisfying parenting. Allow us to be your partners as you travel the amazing, difficult, and rewarding path of parenthood.